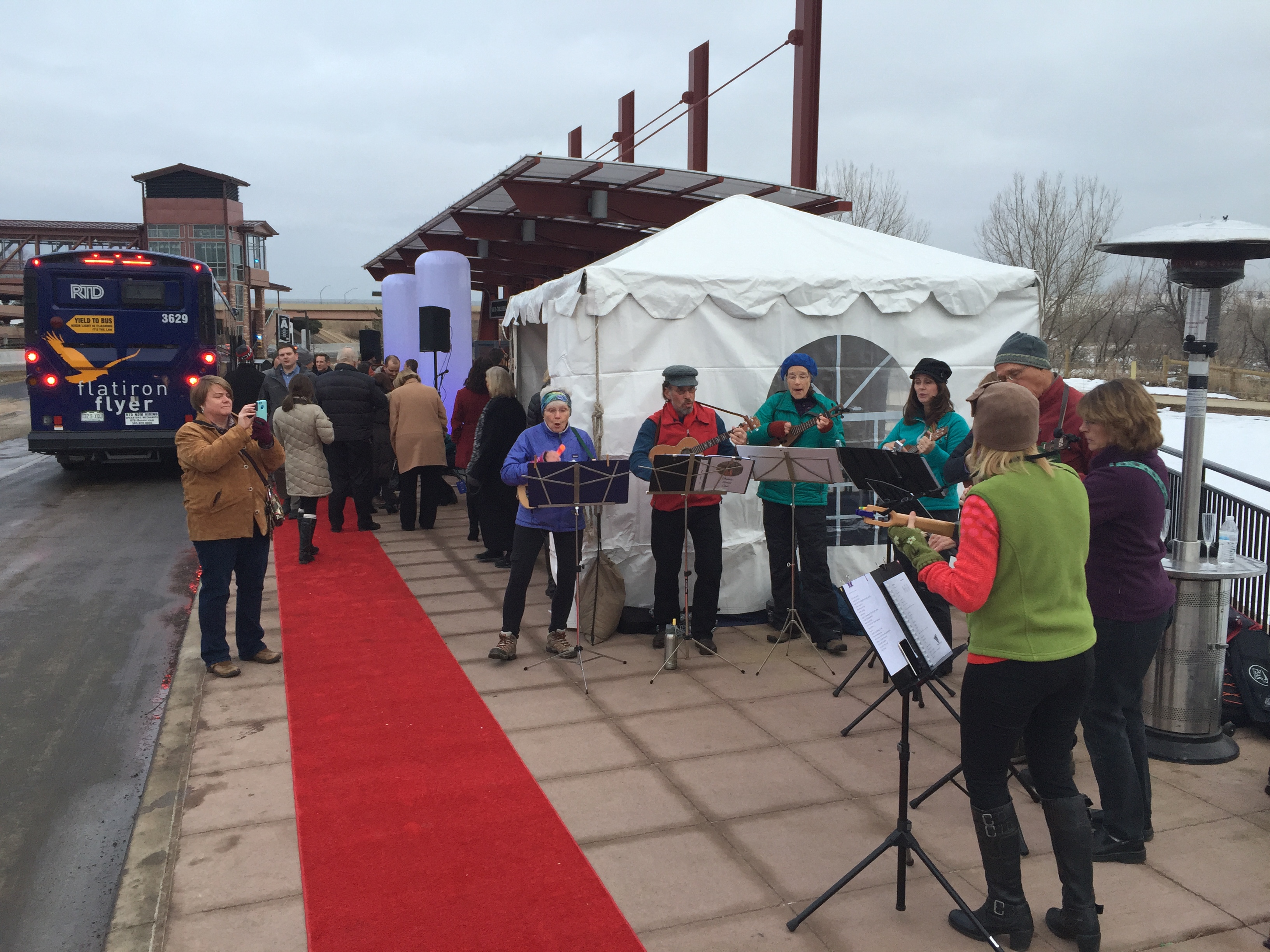 The Ukulele Social Club was invited to play for the Regional Transportation's District red carpet launch of the new Flatiron Flyer Bus line. They played popular tunes, entertaining unsuspecting riders and transportation and city officials. The red carpet rolled up right as the snow began to fly. Cold strumming fingers, but warm hearts.
---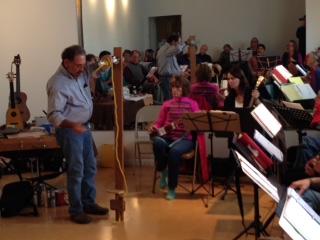 In May 2015 John Sperling presented a very informative workshop to the B.U.G. called Knot Just Strings. He provided wonderful insight on a subject that many of us had never even considered and that is what a difference a string makes. He showed many different options and talked about the importance of winding your string correctly. John also discussed how to eliminate buzzing and stop strings from repeatedly breaking on your instrument. If you were not able to attend - please login to the Members page to download the awesome handout he put together. You will find it valuable for a long time to come.
---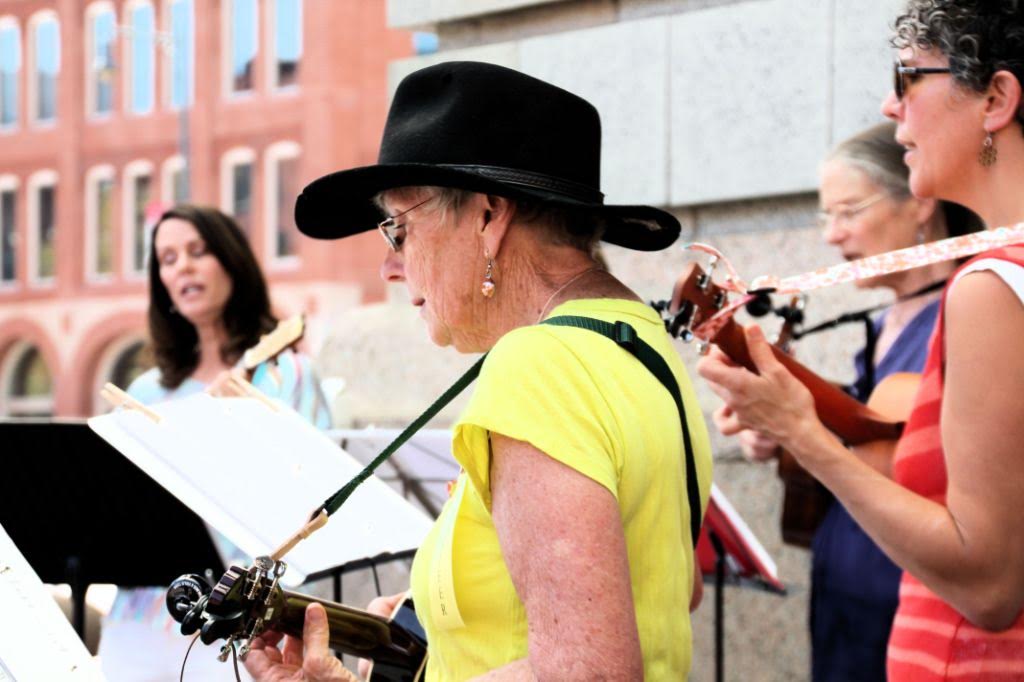 B.U.G. member Bobbie Benson, helped organized "RIDE the Ride, WALK Your Talk, SEE the Art", a one-day event in September 2015 organized by Rocky Mountain Chapter of the Sierra Club that encourages people to use RTD to visit public art sites around Metro Denver. It is a social and educational event for people concerned about their carbon footprint and the use of public transportation is built into the event to help educate people who are concerned about the environment and do not use public transportation. Also, automobile drivers sometimes miss the public art viewing that is available to them at no cost. Art can enrich our lives while at the same time it serves many purposes such as getting to know the community, supporting local businesses, providing social experiences for families, friends, and for organizations. Members of the Ukulele Social Club, a class at the Center for Musical Arts in Lafayette performed at Union Station as part of the event.
---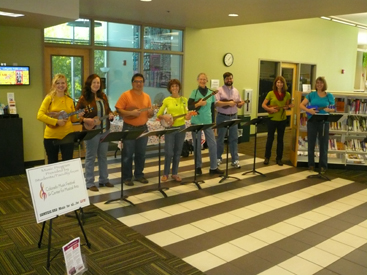 U.S.C. played a lively set at the Lafayette Library in November 2014. Grandma and the kiddies enjoyed some fun for the family ukulele. Ukulele Social Club is a class that is offered through the Center for Musical Arts in Lafayette. Visit the Happenings page for details on this fun and educational club.
---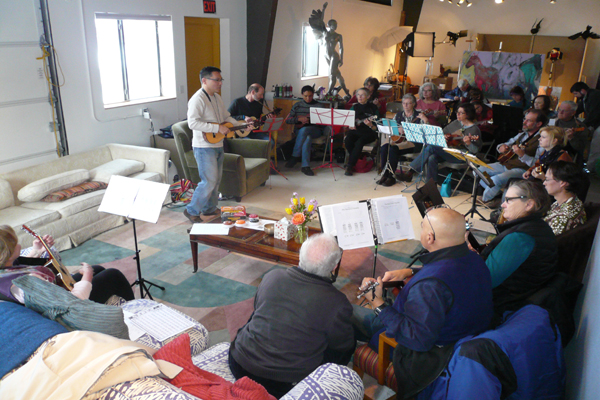 A HUGE thank you to Stuart Yoshida for his fabulous workshop in February 2014. He had the most interesting and creative telling of how the ukulele came to Hawaii and we learned how to play a vamp and played through some Hawaiian tunes. If you missed the workshop, or came and want more, you can connect with Stuart in the future in a variety of ways, he does skype lessons and teaches workshops and he also is the host and creator of the OokTown podcasts. You can find information on him at www.ooktown.com as well as on the B.U.G. site. Stuart has just set up a crowd funding for his podcasts at Patreon.com. Please check out his interesting podcasts about all topics ukulele and consider supporting them. If you want to find out more about his Patreon Project, you can visit www.patreon.com/ooktown
---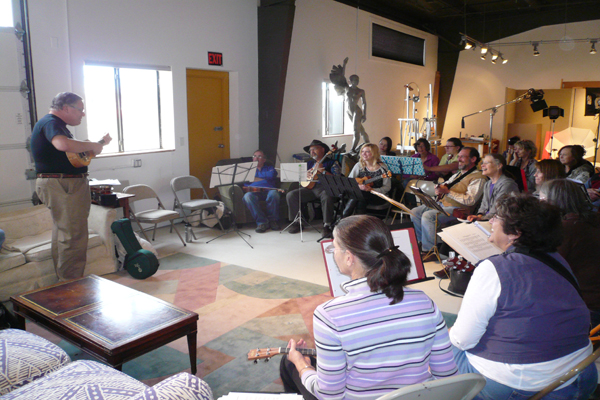 In November 2013 we all gathered to learn about the Blues. In addition to telling us about the nature and construct of his name, Blind Lemming Chiffon shared his vast knowledge of the blues with the group teaching us 8 bar and 12 bar songs. At the end he encouraged everyone to develop their own style vs. just imitating another artist. Then he proceeded to demonstrate his own unique style by playing the ukulele behind his back. Lem is truly one-of-a-kind and we are so appreciative for the time he shared with us.
---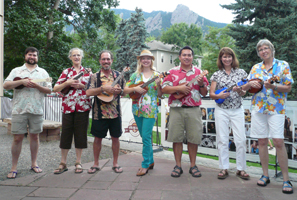 The Ukulele Social Club performed at the "Music Under the Tent" outside of Chautauqua Auditorium in Boulder on July 2013. We had a great time and even had the crowd singing along. The next session of U.S.C. is starting up in June. Visit the Happenings page for details on this fun and educational club starting up again in Sept.
---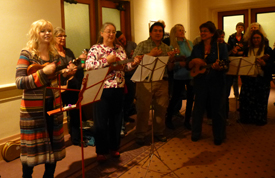 The Ukulele Orchestra of Great Britain played Macky Auditorium in Boulder in April 2013 and it was a great show. The Boulder Ukulele Group performed a flash mob of sorts after the show. When the U.O.G.B. came into the lobby to sign autographs the B.U.G. broke out into a raucous rendition of "Don't Worry Be Happy". Our performance was filmed by Robert Stern of Litmus Films who is making a documentary on the Orchestra and filming them as they tour the country. You can view more about the project on www.litmusfilms.com. There is a possibility that the B.U.G. will be in the documentary - too cool!
---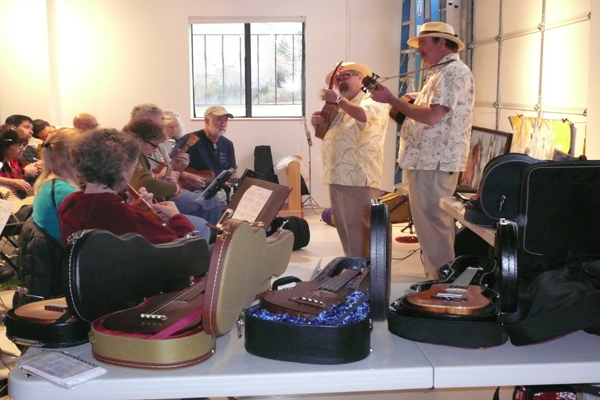 November 2012 B.U.G. hosted a fabulous workshop with ukulele jazz recording artist, performer, record producer and radio show host E.P. Davis and his bass player and longtime friend Clark Wright. Clark and E.P. have been playing together for decades and on a snowy Sat. they played for the B.U.G. and then taught us a chord melody for "Edelweiss". We had a great time and left with inspiration to work on a beautiful version of a beloved song. B.U.G. sends a big thank you to Clark and E.P.! To learn more about E.P. Davis and his music, visit his website: www.hanaleiep.com